Improve your life in one area, gain the confidence you need to improve the others.
---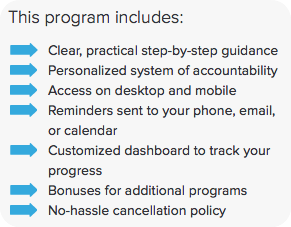 Most people never fully prepare themselves to accomplish their goals – this program will show you how.
With over twenty combined years in the military, business, and sales, Erik Therwanger knows that in order to make life changes that are remarkable in magnitude and degree you need to focus and strategize on your path to greatness.
Bring your environment into balance and join Erik as he teaches you how to develop yourself into a better, goal-driven person. In this program you will create a 90 Day Run – a timeline to change your life.
This program is designed to fit perfectly into your daily routine. It is built around a proven formula to change your short-term and big picture, whether your goals are big or small. Perfection is impossible, but through tracking and course correction, you will be able to achieve significant progress towards a better future.

See what happens when you commit to yourself for 90 days, and beyond.

What is the Goal Planning Strategy program? The Goal Planning Strategy program is not an online course, although it does come with a lot of Think GREAT content. The program is an interactive accountability tool that lets you set goals, plan your key behaviors, log your daily goal-driven actions, track your progress, and set email and text reminders. The Goal Planning Strategy will make accomplishing your goals easier.
Learn more about this program.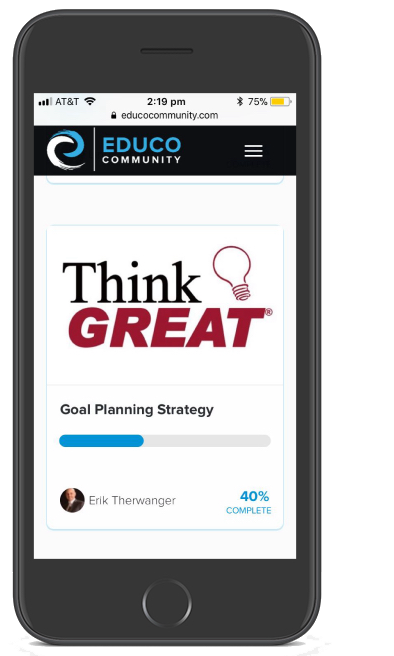 Erik has designed this program for people who are:
Trying to make life changes, such as losing weight or getting out of debt

Employed in a leadership position, sales, or other performance-based job

Looking to increase their income and build financial security

Eager to enhance the meaningful relationships in their life

Interested in adding a new level of excitement to their life

In need of accountability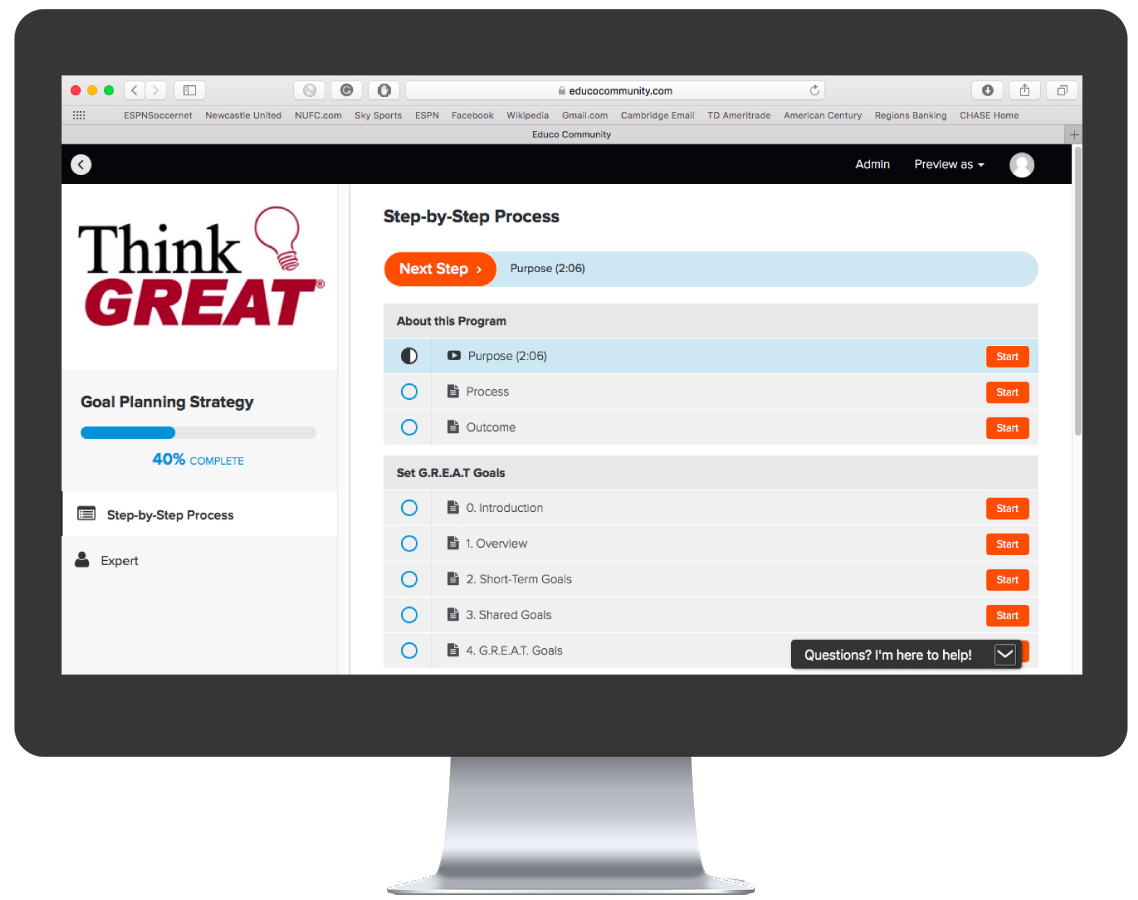 Erik will be your guide as you:
Take control of all phases of your life

Take action and achieve GREAT results in 90 days

Break "big picture" goals into manageable milestones

Accomplish your goals using the proven techniques of the Goal Formula™
Expert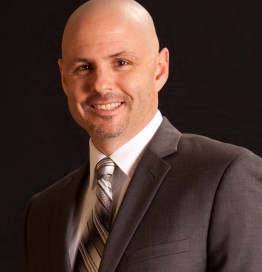 As the founder of Think GREAT, Erik draws from his experiences as a U.S. Marine, executive business leader, sales professional, and entrepreneur to help organizations achieve greater levels of success. He uniquely combines leadership development, team building, sales training, and goal-setting into strategies and techniques that empower employees, sales teams, leaders, and business owners to exceed expectations. Erik's presentations have been requested from businesses such as Sam's Club, branches of the armed services ranging from the Air National Guard to the U.S. Marine Corps, and charity organizations like The American Cancer Society.
How Educo Community Works
---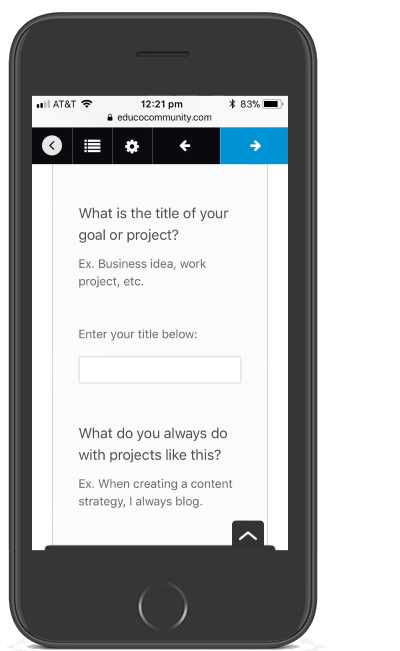 Expert advice when you need it.
Select from our variety of expert programs that will help you solve specific problems in your relationships, business, and life.
Practical step-by-step guidance through questions.

Through the use of questions, the programs are designed to help you think through your problems and come up with the best solutions.
---
Create actionable plans.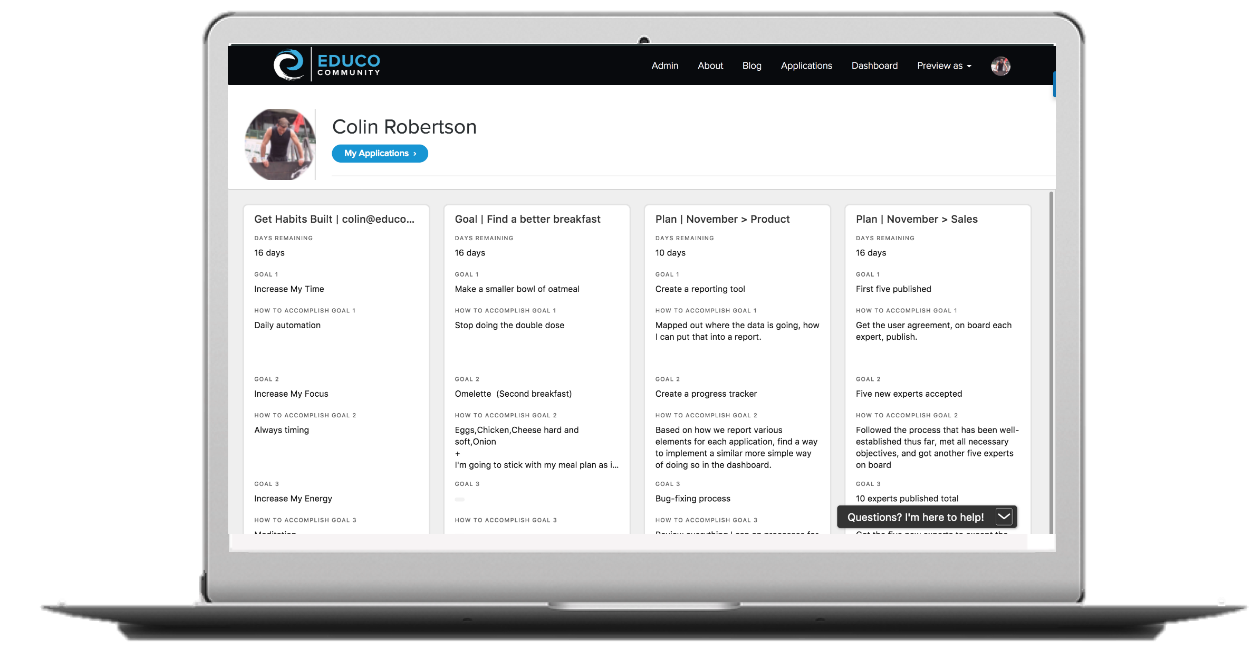 Every program will equip you with a step-by-step plan that you can use to put the expert's advice into action.

Track your progress.
Unlike courses, talks, or workshops, these programs are built for the long term. You will be able to track the success of your plans and measure your results over time.

Millennials are NOT Your Leadership Challenge
---
Step-by-Step Process
About this Program
Available in days
days after you access
Your 90 Day Run
Available in days
days after you access
Steps
Available in days
days after you access
Frequently Asked Questions
Why do programs use the Question Method?
The best way to provide advice from afar is for an expert to ask you the right questions that will help you learn the right processes to come up with the answer that is best for that situation. Each program will help guide you towards a plan by asking you the questions that will help you solve the problem. It is the principle of: "Give a man a fish and he will eat for a day. Teach a man to fish and he will eat for a lifetime."
Where do my answers go?
You will see your answers on your Dashboard, as well as in an email report sent to you. Your Dashboard is an action-oriented application that will help you apply the expert guidance to your life. In your Dashboard you will keep your journal, set and update your goals, and plan your actions.
How long does it take to complete the program?
The Goal Planning Strategy takes roughly 15 to 30 minutes to set up, including all of your reminders and goals. To help you get set up, there is a 2-day grace period before your 90 Day Run begins so you can start at your own pace. After that, tracking your progress in the GPS can take as much or as little time as you want.
Is there a way to track my progress or look at my answers within the program?
Yes, this can be done in your Dashboard.
Can I come back if I don't have time to go through all the steps?
Yes. The programs are built for use when and where you need them. You may come and go as you please.
Which package is right for me?
That depends on how much accountability you need. The Thrive package is our most popular choice because it includes a monthly webinar with Erik Therwanger. So often the ability to achieve our goals is derailed because of poor planning and the problems of everyday life. No matter which package you choose you will be taking a step towards improving your quality of life.
What if I am unhappy with the program?
We would never want you to be unhappy! If you are unsatisfied with your purchase, contact us in the first 14 days and we will give you a full refund.