A goal without a plan is chaos.
Most of us feel "above" the planning process, but as our world becomes more littered with information, we need to have a way to structure our ideas and put them into action.
This program works with your brain's natural planning process to help you do just that.
Get Things Planned will help you come up with creative solutions to optimize your time. The program is designed to be used each and every time you start a new project or set a new goal. This program is a guide of self-discovery that will motivate you to think through the right issues and come up with innovative solutions to new challenges and unfamiliar problems.

You will learn the framework to tackle difficult issues, how to identify what has and has not worked in your previous solution patterns, and define your purpose. As a result, you will learn how to break your previous patterns and take goal-oriented action.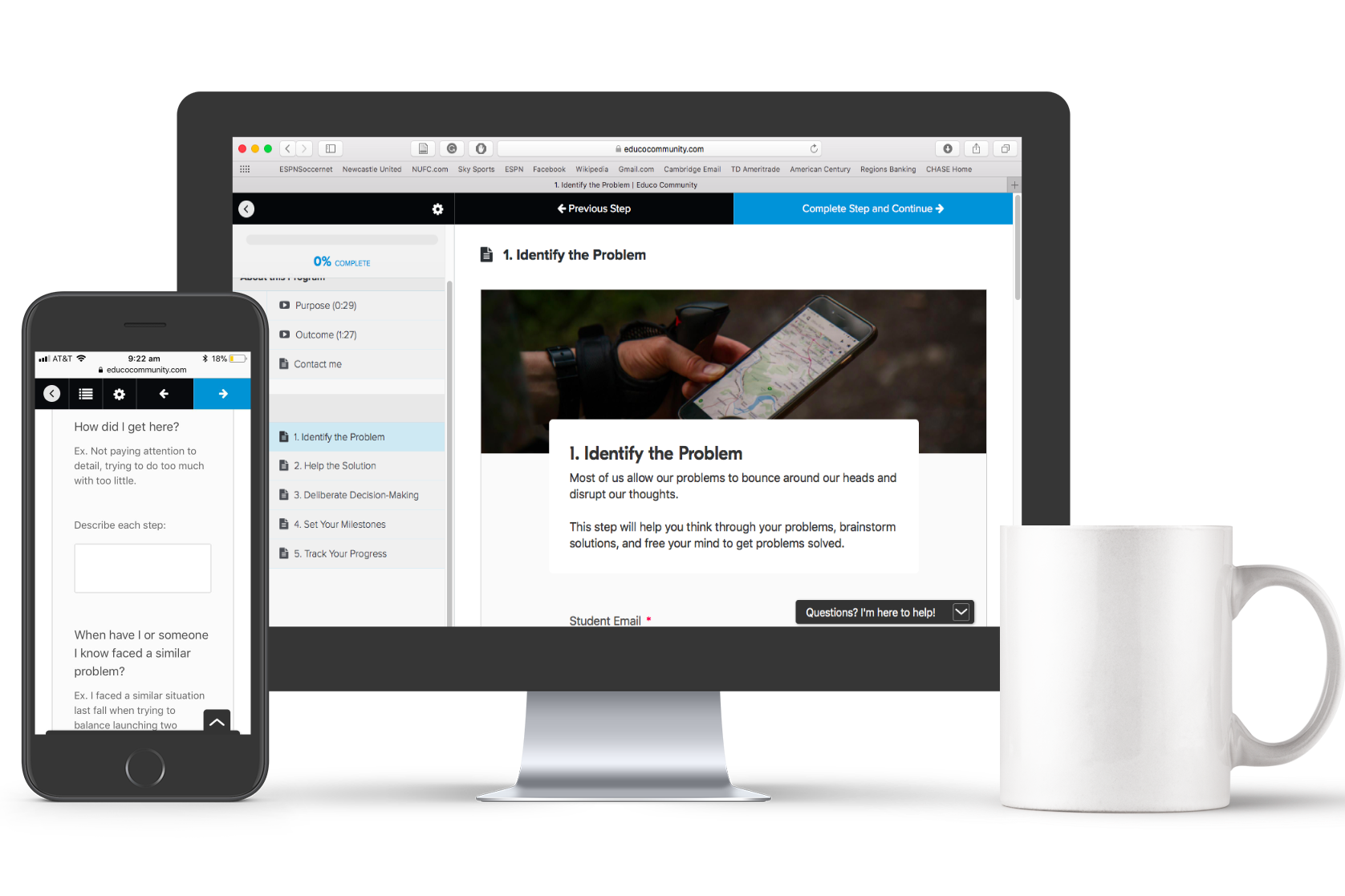 This program has been designed for people who are:
Employed in a leadership position, sales, or other performance-based job

Trying to make life changes and in need of accountability

Struggling with stress or anxiety

Starting or growing a business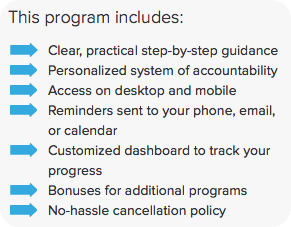 This program will guide you as you:
Take control of all phases of your life

Set and achieve your long-term goals

Consistently monitor your progress towards success

Plan for and conquer potential setbacks and challenges
Step-by-Step Process
About this Program
Available in days
days after you access
Steps
Available in days
days after you access
Further Resources
Available in days
days after you access
How Educo Community Works
---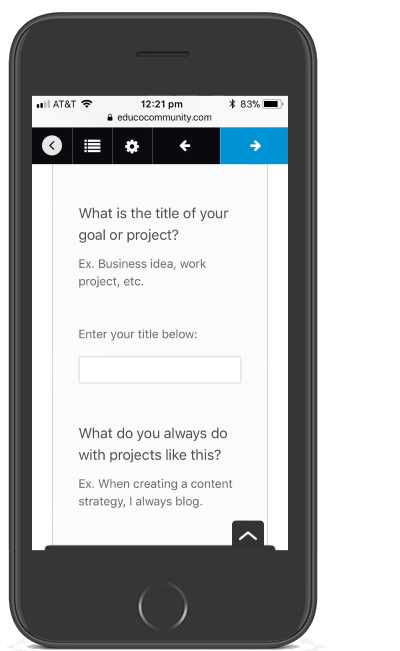 Expert advice when you need it.
Select from our variety of expert programs that will help you solve specific problems in your relationships, business, and life.
Practical step-by-step guidance through questions.

Through the use of questions, the programs are designed to help you think through your problems and come up with the best solutions.
---
Create actionable plans.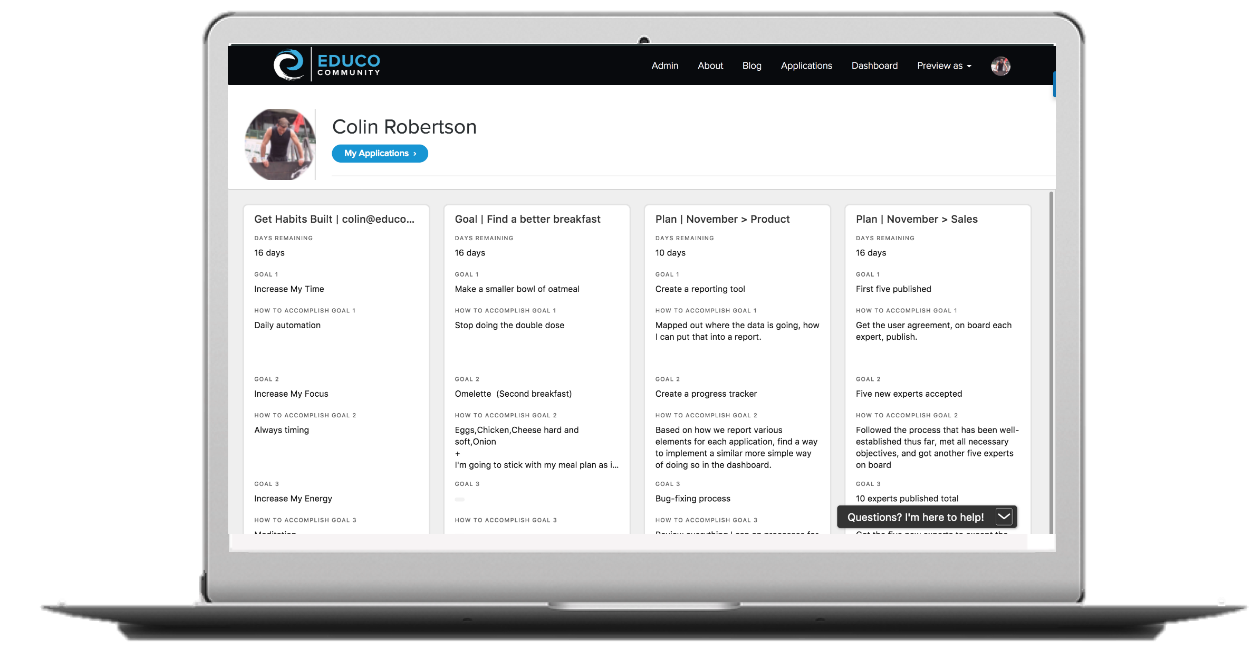 Every program will equip you with a step-by-step plan that you can use to put the expert's advice into action.

Track your progress.
Unlike courses, talks, or workshops, these programs are built for the long term. You will be able to track the success of your plans and measure your results over time.

Frequently Asked Questions
Why should I use this program?
This program is designed to help anyone who feels overwhelmed by time commitments or anxious about the future. Whenever you feel overwhelmed, stressed, or hopeless, this program will give you the clear steps you can take to conquer them and achieve success through efficient time management.
What will I achieve through this program?
This program will walk you through each step in the planning process. You will identify the problem and designed outcome with a clear mind, create a concrete plan, and be able to track your progress all the way to completion.
How long does it take to go through the program?
It takes about half an hour to go through the entire process. However, you may find that in going through the process the plan becomes apparent to you at step two or step three.
Why did you create this program?
I created this program after years of confronting unknown problems in the world of entrepreneurship and using the scientific method to solve them and use my time wisely. I then turned it into an program to make it more useful with today's technology.
Why do you charge monthly?
Unlike a course where you learn the information once, this program is built for continuous improvement. There will always be new problems that spring up in your life and new plans to be made. The more you use this process, the better you will become at planning.
Which package is right for me?
That depends on how much accountability you need. So often the ability to achieve success is derailed because of the simple, easily-solvable problems of everyday life. The Manager package is our most popular choice because it includes all the resources you need to save time and thrive. No matter which package you choose you will be taking a step towards improving your quality of life.
What if I am unhappy with the program?
We would never want you to be unhappy. If you are unsatisfied with your purchase, contact us in the first 30 days and we will give you a full refund.